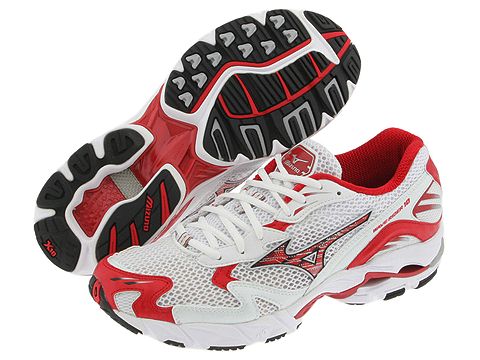 So, I have yet another pair of running shoes.
Except that, this time, they're not trail shoes; and they're not New Balance 754s, either.
This is quite a change. I've been running with Helen since 2005. Pretty soon into the process, I bought myself a pair of NB 754s. This was at Philadelphia Runner.
They worked out great. Soon, it made sense to have two pairs – one at Helen's apartment, one at mine. Then we moved in together, so I just kind of alternated them. Wrote their numbers on the back, so I wouldn't get them moved up.
Then NB discontinued them! I bought one more pair off the 'net. But on one of our recent long runs, it became clear that pair number 3 really didn't have any more cushion in them. So, back to Philadelphia Runner.
My thoughts were: try the NB 755s, which replace the 754s; and also, try some Mizunos. Helen, of course, wanted me to try some other shoes as well, including Asics, Saucony, and Brooks.
Thing was, PR just didn't have much in stock. And nothing quite fit right. They didn't have the NBs, only had the Mizunos in a size 9. So, off to citysport, which actually had the Mizunos in an 8 ½!
And that's what I'm now wearing.
The jury's still out, though. Sometimes they feel great; sometimes, they're just a little bit off. Sometimes the right feels better than the left; sometimes, well, vice-versa.
Oh, and sometimes rocks get caught in the sole. Not little ones – but pebbles that are bigger than a marble. That part's kinda weird. (If you look at the pic, it's the empty part in the heel where they get stuck).

I'm hoping that they'll work out. It's not unreasonable. These are my 3rd ever pair of Mizunos. The first two – my trail running shoes and a pair of soccer cleats I bought in 2000 – were love at first wear. These ones, they still have some proving to do.